The barreleye named after its eyes that are literally shaped like barrels has a unique quality which is its transparent head.
HABITAT
The barreleye lives at depths ranging from 600 to 800metres.
ANALYSIS
The species most distinctive feature is its transparent dome while lies just on top of its head through which the lenses of the fish can be seen.
Its eyes can be rotated to point either straight looking when feeding or upward looking when looking for food through its fluid filled transparent dome.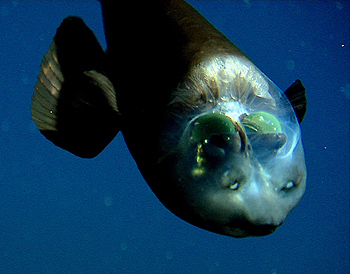 This picture shows the fish's eyes looking upward while the fish faces downwards.


Their size ranges from 15cm to approximately 45cm with a tiny mouth and large, flat fins which gives them the ability to move with great precision and stay motionless in water.

Picture source: MBARI
They also have green pigments in the eyes that helps them filter out sunlight coming directly from sea surface which enables them to spot other aquatic creatures that emit bioluminiscent lights.
In little or low light, the barreleye detects its prey by its 
. Courtesy of Bruce Robinson and Kim Reisenbichler from the MBARI observed that when prey is located, the fish's eye rotates like binoculars facing forward while changing into a vertical position to feed.