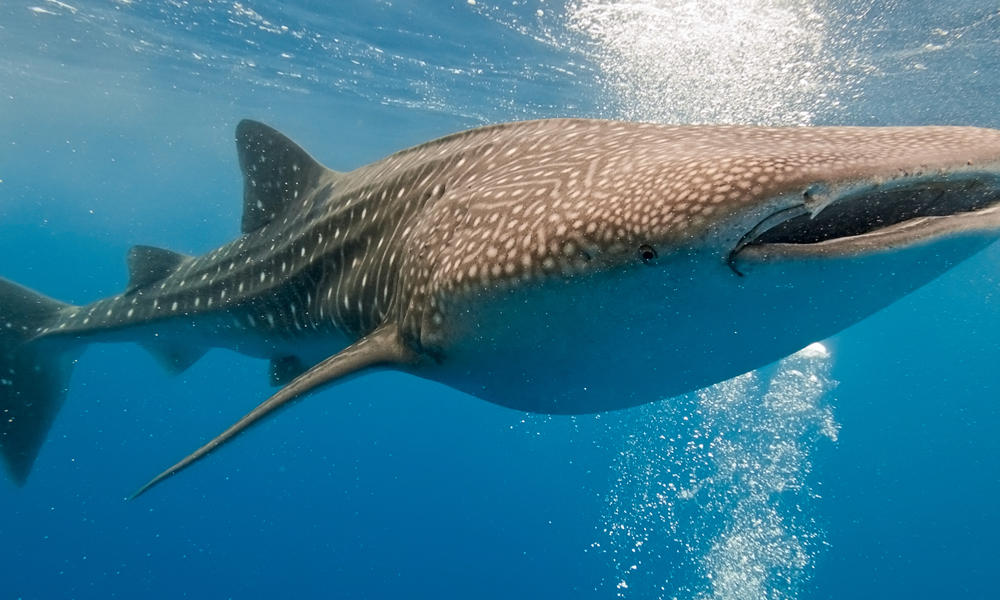 Helping and Improving Whale Shark Tourism
Donsol Bay, Philippines, attracts huge numbers of whale sharks because of the high levels of plankton found in its water. WWF has helped with whale shark tourism there since 1998. We continue to work to ensure whale sharks stay safe during the frequent interactions they have with people and tour boats.
As whale shark tourism is very popular in Mexico, we educate tourists on codes of conduct for swimming with sharks. We also raise awareness with tour boat operators about the movements of sharks, which has resulted in fewer boat collisions with the animals.
WWF experts continue to study shark habits and gather information in the Coral Triangle on individual sharks by using satellite tags, sonar devices and digital cameras. The information is used to create further protections for whale sharks.
Every whale shark has a unique pattern of spots and stripes on their skin, and WWF uses them to identify individual sharks. Divers photograph the animal right above their pectoral fins and behind their gill slits. The photos are fed into a computer database. In the Philippines, WWF has identified 458 individual whale sharks since 2007.
WWF has also placed satellite tags on 29 whale sharks. Most tagged sharks stay within 125 miles from shore. All spend most of their time below 150 feet, rarely rising to the surface to feed. These results indicate that whale sharks are highly mobile and are transient feeders.
WWF also supports whale shark studies to learn more about the population, their habitat use and migratory pathways in the waters surrounding Mafia Island, Coastal East Africa.